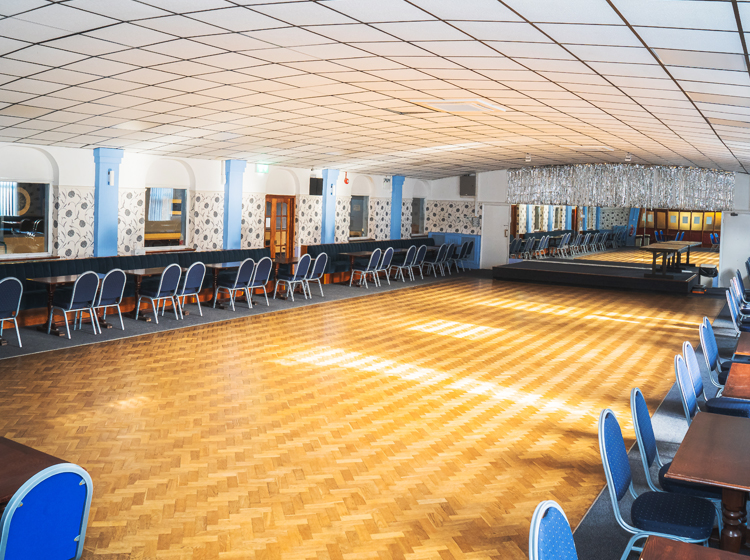 Function Room: the room is a large area within the club that can be hired for events, the room is fully furnished with excellent lighting and is fully air conditioned. A large stage area for the use of D.J's Bands, wedding speeches, Award presentations.
A beautifully kept dance floorwhich is used for numerous dance events and classes.
The dance lesson can be signed up to by contacting the dance teachers direct as follows.
Monday Night Bojangles jive lessons at www.bojanglesjive.co.uk
Wednesday Night Salsa & Bachata lessons at WWW.MUNDOLATINOUK.COM Mobile 07775624089
Thursday night Ivan mobile number 07961047415 & email: iarandia@btinternet.com
Sunday night Ballroom for Members and Guests www.kingstonworkmansclub@gmail.com 02085460500.
Please contact the office on 02085460500 for the cost of hire or email kingstonworkmansclub@gmail.com
The club has other smaller rooms that can be hired for meetings, contact the office for details.
Our beautiful members lounge is a welcoming space that members can sit and enjoy the company of others, the Bar and Members lounge, is fully air conditioned with a large seated area, the bar is well stocked with numerous larges, real ales, ciders. Numerous Whiskeys, Gins and spirits, as well as a wide selection of minerals.
The club hosts a Beer Festival run by CAMRA this event is annually and usually takes place in the month of May. The Beer Festival is hosted over 3 days, usually starting on Thursday of the week, the festival has a vast selection of Real Ales, Ciders and Perries.
OPENING HOURS
Monday to Friday
11.00am-11.00pm
Saturday
11.00am-11.00pm
12.00pm for functions
Sunday
12.00pm-10.30pm
COME AND VISIT USBOOK HALL